Posted By admin on June 20, 2015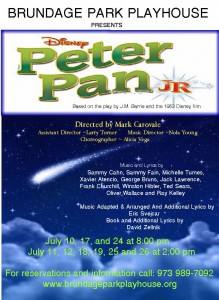 Brundage Park Playhouse is pleased to announce performances for its upcoming show Peter Pan Jr. at the playhouse on Carrell Road in Randolph, NJ.
DISNEY'S PETER PAN JR
Performance Dates:
   July 10, 17 and 24 at 8:00 pm
   July 11, 12, 18, 19, 25, 26 at 2:00 pm
Directed by:  Mark Carovale
Assistant Director:  Larry Turner
Music Director:  Nola Young
Choreographer:  Alicia Vega
Music and Lyrics by Winston Hibler, Ted Sears, George Bruns, Sammy Fain, Jack Lawrence, Sammy Cahn, Michael Tumes, Xavier Atencio, Frank Churchill, Oliver Wallace and Ray Kelley.  Music Adapted and Arranged and Additional Lyrics by Eric Svejcar.  Book and Additional Lyrics by David Zellnik.
The Story 
Based on the Disney film and J.M. Barrie's enchanting play, Disney's PETER PAN JR. is a modern version of the timeless tale about a boy who wouldn't grow up. The score includes new arrangements of classic Disney songs, such as "Following the Leader," "You Can Fly," "The Second Star to the Right" and "Yo Ho, A Pirate's Life for Me." Wendy Darling loves to tell stories to her brothers, Michael and John. But when her father announces she must move out of the nursery, Peter Pan comes to visit the children and whisks them away to Never Land. Their adventure introduces them to the Lost Boys, Mermaids, Indians and even the infamous pirate, Captain Hook!
CAST (In Alphabetical Order)
PETER PAN: Tobey Todd……Randolph
CAPTAIN HOOK: Akash Bhide……..Randolph
WENDY: Julia Drahzal…..Mendham
JOHN: Christopher Lange……Succasunna
MICHAEL: Michael Luciano…..Randolph
MR. DARLING: Duffy Heitmann…..Flanders
MRS. DARLING: Molly McDonald…….Ledgewood
NANA: Alicia Vega….. Randolph
TIGER LILY: Erin Martire……..Long Valley
TINKER BELL: Hope Keil………….Randolph
CHIEF TIGER BAMBOO: Alex Gelpke………Dover
SMEE: Nicholas Profito…….Chester
THE CROCODILE: Alicia Vega….. Randolph
THE FAIRIES:
IRIDESSA: Clare Capuzzi….. Morris Plains
SILVERMIST: Grace Judith……Randolph
ROSETTA: Amanda Claas…..Randolph
FAWN: Isabel Vega……..Randolph
LYRIA: Julia Frost……Randolph,
VIDIA: Kaitlyn Kudriavetz…..Randolph
THE LOST BOYS:
CUBBY: Jake Marsh……Chester
HOP: Collin Ware…….Newton
FOX: Christopher Simon…….Mendham
RACCOON TWIN #1: Brigid Heitmann…..Flanders
RACCOON TWIN #2: Isabella Dimichino……..Randolph
ENSEMBLE:
Sabrina Hajsok……..Randolph
Mia Morganstein…….Randolph
Emma McDonald……..Ledgewood
Sarah Olivieri………Landing
Kristin Ware………Newton
Jessica Wattman…..Randolph
________________________________________
Performances will be at the playhouse on Carrell Road in Randolph, New Jersey.  For ticket reservations, please call (973) 989-7092.
Tickets are $15 for Seniors over 62 and Children under 12. All other tickets are $20. No one under the age of four is permitted to any main stage production. Please, no babes in arms.
A Visa or Mastercard is required to hold all reservations.  American Express is not accepted. 
Tickets can only be exchanged up  to 24 hours ahead of the production by calling the box office at (973) 989-7092 during weekdays only.
For further information please contact Brundage Park Playhouse at (973) 989-7092 or visit our website at http://brundageparkplayhouse.org/