Posted By admin on July 24, 2016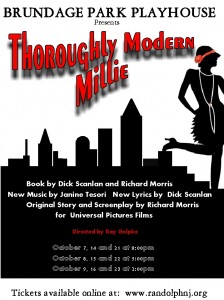 BRUNDAGE PARK PLAYHOUSE ANNOUNCES UPCOMING PRODUCTION OF
THOROUGHLY MODERN MILLIE
Performance Dates: 
October 7, 14 and 21 at 8:00 pm
October 8, 15 and 22 at 5:00 pm
October 9, 16 and 23 at 2:00 PM

Directed by: Ray Gelpke
New Music by Janine Tesori
New Lyrics by Dick Scanlan
Book by Dick Scanlan and Richard Henry Morris
Original Story and Screenplay by Richard Morris for the Universal Pictures Filmoan
Millie Dillmount arrives in 1922 Manhattan. She has guts, pluck, charisma, and moxie. She may be from a small town, but she's got big dreams. She's here to make those dreams come true and nothing can deter her or send her running home.  Filled with frisky flappers, dashing leading men and a dragon-lady of a villain audiences will love to hate, Thoroughly Modern Millie is a perfectly constructed evening of madcap merriment.
CAST LIST
MILLIE DILLMOUNT – Alexa Scano (Succasunna)
MISS DOROTHY BROWN – Alicia Vega (Randolph)
MISS FLANNERY/MAMA/DOROTHY PARKER – Bernadette Lola (Morris Plains)
MRS. MEERS – Chrystina Kepreos (Lafayette)
MUZZY VAN HOSSMERE – Victoria Carroll (Somerset)
TREVOR GRAYDON – Cory Herbert (Boonton)
JIMMY SMITH – Will Sandoval (Budd Lake)
CHING HO – Michael Yin (Exchange Student, Hong Kong)
BUN FOO – Tina Yi (Exchange Student, Hong Kong)
ALICE – Kristin Ware (Newton)
RUTH – Kelly Hollenbeck (Rockaway),
CORA – Isabella Dimichino (Randolph)
LUCILLE – Chiara Ricupero (Randolph)
RITA – Julia Frost (Randolph)
GLORIA – Eve Hind (Landing)
ENSEMBLE
Zoe Turner (Wharton), Melina Turner (Wharton),
Michael Luciano(Randolph), Jordan Brenner (Morris Plains)
Brigid Cavanagh (Wharton), Grace Judith (Randolph),
Nick Short(Randolph), Hannah Hind (Landing)
Maya Slaughter (Morristown)
Tickets are $20 for Adults, $15 for Seniors (over 62) and Children (under 12), and Military with valid ID (active, reserve, retired).
Purchase your tickets online using Randolph Community Pass

For further information please contact Brundage Park Playhouse at (973) 989-7092