Posted By admin on April 14, 2015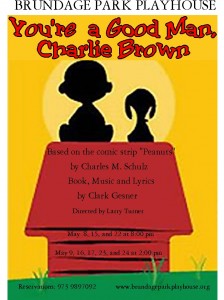 YOU'RE A GOOD MAN, CHARLIE BROWN
Directed by Larry Turner
Assistant Director:  Mark Carovale
Music Director:  Johnny Citarelli
Set Designer:  Nola Young
Lighting and Sound Operator:  TBD
Performance Dates:   May 8, 15 and 22 at 8:00 pm and May 9, 16, 17, 23, and 24 at 2:00 pm
THE STORY
YOU'RE A GOOD MAN, CHARLIE BROWN (Revised) is a fresh approach to the all-time 1967 classic. The time of the action is "an average day in the life of Charlie Brown." It really is just that, a day made up of little moments picked from all the days of Charlie Brown, from Valentine's Day to the baseball season, from wild optimism to utter despair, all mixed in with the lives of his friends (both human and non-human) and strung together on the string of a single day, from bright uncertain morning to hopeful starlit evening.  Charlie Brown is joined by his sister Sally, along with his friends Linus, Lucy, Schroeder and Snoopy in this version. Two new songs, Beethoven Day and My New Philosophy, have been added to the twelve wonderful numbers of the original version, such as My Blanket and Me, The Kite, The Baseball Game, Little Known Facts, Suppertime and Happiness.
Based on The Comic Strip "Peanuts" by Charles M. Schulz, Book, Music and Lyrics by Clark Gesner,  Additional Dialogue by Michael Mayer , Additional Music and Lyrics by Andrew Lippa,  Original Direction for this version of "You're A Good Man, Charlie Brown" by Michael Mayer, Originally Produced in New York by Arthur Whitelaw and Gene Persson
CAST LIST
Charlie Brown:  Jeffrey Meudt, Budd Lake
Sally Brown:  Kelly Miller, Dover
Snoopy:  Mark Carovale, Wharton
Lucy Van Pelt:  Kristina Plate,  Sparta
Linus Van Pelt: Matthew Luminello,  Parsippany
Schroeder:  Johnny Citarelli,  Hamburg
Woodstock:  Christopher Lange, Succasunna
ENSEMBLE
Clare Capuzzi, Morris Plains
Amanda Claas, Randolph
Kelly Ganning, Morristown
Alexandra Martins, Succasunna
Ariana Pereira, Randolph, NJ
Andrew Speers, Morristown
Isabel Vega, Randolph, NJ
Performances will be at the playhouse on Carrell Road in Randolph, New Jersey.  For ticket reservations, please call (973) 989-7092.
Tickets are $15 for Seniors over 62 and Children under 12.
All other tickets are $20.
No one under the age of four is permitted to any main stage production. Please, no babes in arms.
A Visa or Mastercard is required to hold all reservations.  American Express is not accepted. 
Tickets can only be exchanged up  to 24 hours ahead of the production by calling the box office at (973) 989-7092 during weekdays only.