Posted By admin on July 7, 2014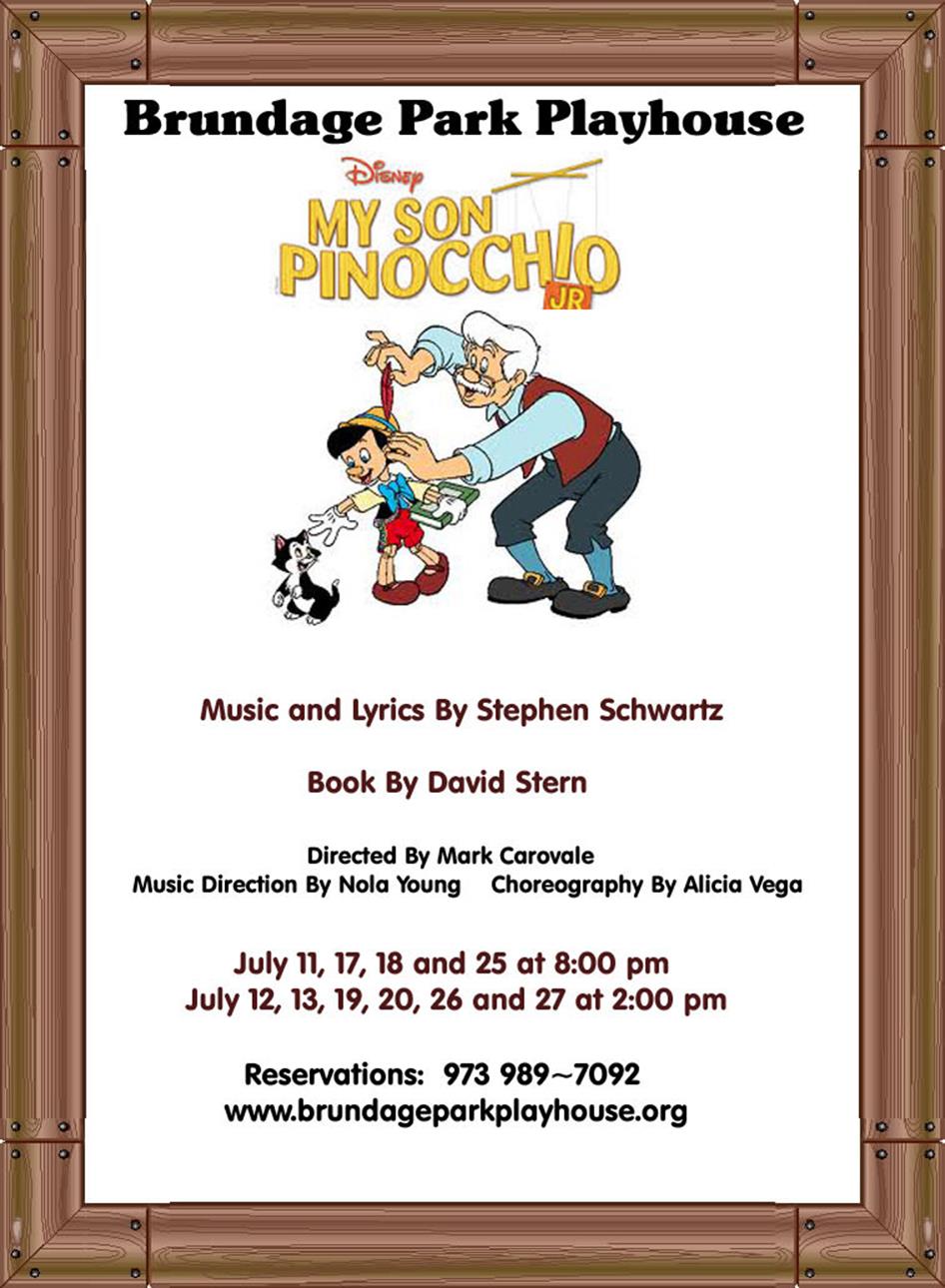 Brundage Park Playhouse on Carrell Road in Randolph, NJ is pleased to announce performances for our upcoming production of DISNEY'S MY SON PINOCCHIO, JR. for our 2014 Season.

Performance Dates: July 11, 17, 18 and 25 at 8 pm, and July 12, 13, 19, 20, 26 and 27 at 2 pm.

My Son Pinocchio, Jr.

Book by David Stern

Music and Lyrics by Stephen Schwartz

Directed by Mark Carovale

The Story:

The enchanting tale of Toymaker Geppetto and his little wooden puppet is re-imagined in this Broadway Junior version based upon the classic Disney story. This new musical boasts favorite tunes from "When You Wish Upon a Star" and "I've Got No Strings", as well as brand new tunes by the Oscar and Grammy Award winner and master melodist, Stephen Schwartz. Brundage Park Playhouse is proud to present this musical as part of our 2014 Season.

FAIRIES:

ROSA: Grace Judith, Randolph, VIOLA: Emma Swan, Parsippany, ARANCIA: Kayla Jacobson, Randolph

SUE: Elizabeth Rosato, Randolph

THE BLUE FAIRY: Alicia Vega, Randolph

GEPPETTO: Zac Baccaro, Succasunna

PINOCCHIO: Ryan Domalewski, Randolph

STROMBOLI: Christian Harvey, Randolph

PROFESSORE BUAONRAGAZZO: Duffy Heitmann, Flanders

JUNIOR: Michael Luciano, Randolph

RINGLEADER: Amanda Claas, Randolph

ADRIANA: Hope Keil, Randolph

Rest of cast:

Emily Gmahle, Randolph, Isabella Dimichino, Randolph, Emma Gipstein, Randolph

Brigid Cavanagh, Wharton, Alexa Scano, Succasunna, Isabel Vega, Randolph, Luke Vega, Randolph

Molly McDonald, Ledgewood, Julia Frost, Randolph, Clare Capuzzi, Morris Plains

Tobin Todd, Randolph, Reggie Onorati, Mendham

Director/Costumes/ Lights  Mark Carovale

Asst. Director Larry Turner

Music Director/Set/Props Nola Young

Choreographer Alicia Vega 

Performances will be at the playhouse on Carrell Road in Randolph, New Jersey. For ticket reservations, please call (973) 989-7092. Tickets are $15 for Seniors over 62 and Children under 12. All other tickets are $20. A Visa or Mastercard is required to hold all reservations.