Posted By admin on November 3, 2013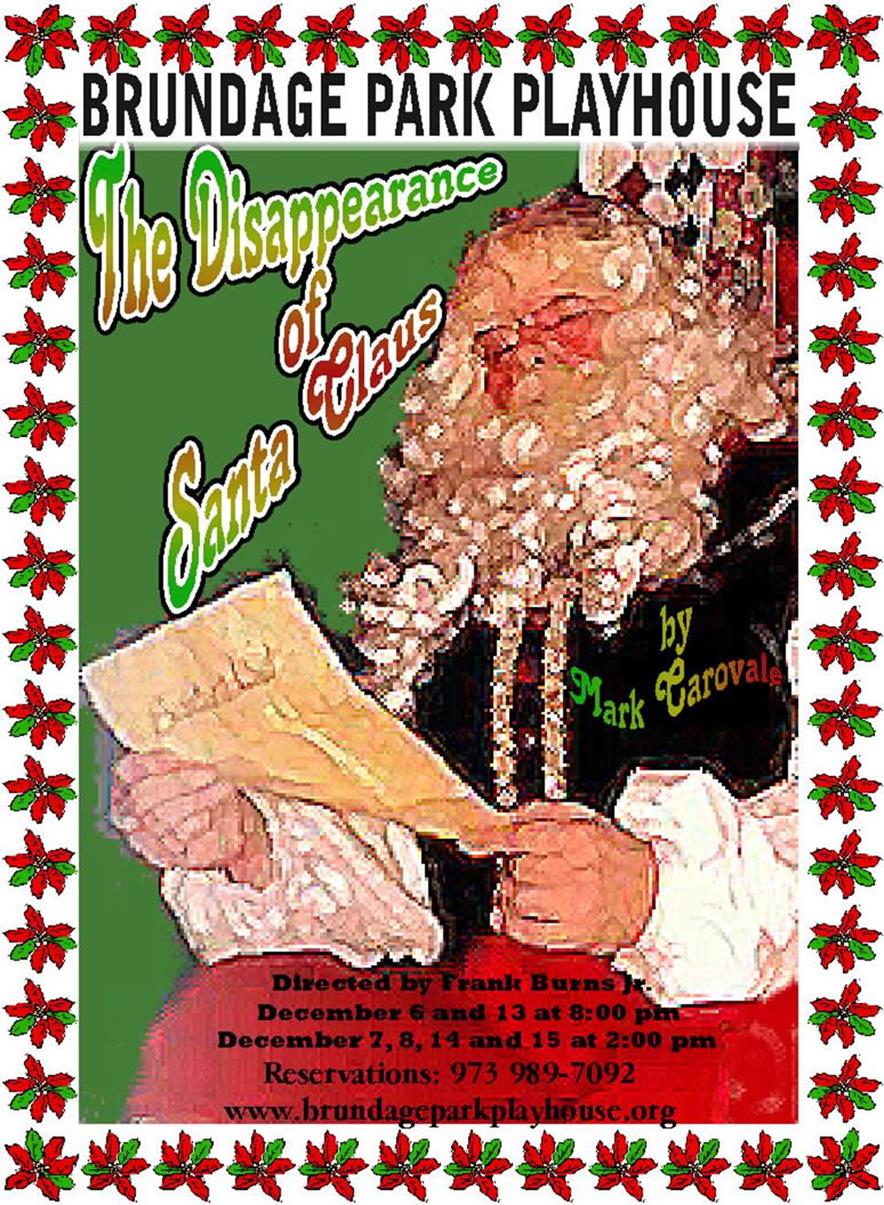 The Disappearance of Santa Claus,

Written by Mark Carovale.

Adapted from "A Kidnapped Santa Claus" by L. Frank Baum. Directed by Frank J. Burns, Jr.

Performance Dates: December 6th and 13th at 8:00 pm, December 7th, 8th, 14th and 15th at 2:00 PM

The Story:

Through his generous gift giving, Santa Claus makes an enemy of the Five Daemons of the Caves. They are not happy because the children rarely visit their caves. The daemons Selfish, Hateful, Malice, Jealous and Repentance kidnap Santa Claus! It's up to the reindeer, elves and the pixies to save Christmas. Can they do it in time? Filled with many well- known Christmas songs, this is a delightful story for young and old to share during the holidays.

Cast List:

Santa Claus: Mark Carovale (Mine Hill)

Mrs. Claus: Nola Young (Wharton)

Rudi: Joseph de Grandpre (Mendham)

Trudi: Amanda Claas (Randolph)


The Elves:

Wisk: Ryan Domalewski (Randolph), Peter: Michael Luciano (Randolph) and Pixie: Elizabeth Rosato (Mendham)

The Daemons:

Selfish: Victoria Klett (Randolph), Hateful: Kristina Plate (Sparta), Malice: Melanie Rivellese (Chester), Jealous: Carly Francesconi (Randolph) and Repentance: Rene Dussault (Randolph)

Carolers:

Melissa Bryan (Mendham), Kirsten Calantone (Randolph), Clare Capuzzi (Morris Plains), Emma Gipstein (Randolph), Aneelah Hendrickson (Randolph), Hope Keil (Randolph), Christopher Lange (Succasunna), KT Leary (Randolph), Alexa Scano (Succasunna), Regina Silikovitz (Randolph)

For ticket reservations, please contact Brundage Park Playhouse at (973) 989-7092 Monday-Friday 9am-4pm. Tickets are $12 for Seniors 65+ and Children Under 12. All others are $15.

Visit our website at www.brundageparkplayhouse.org .