Posted By admin on April 1, 2013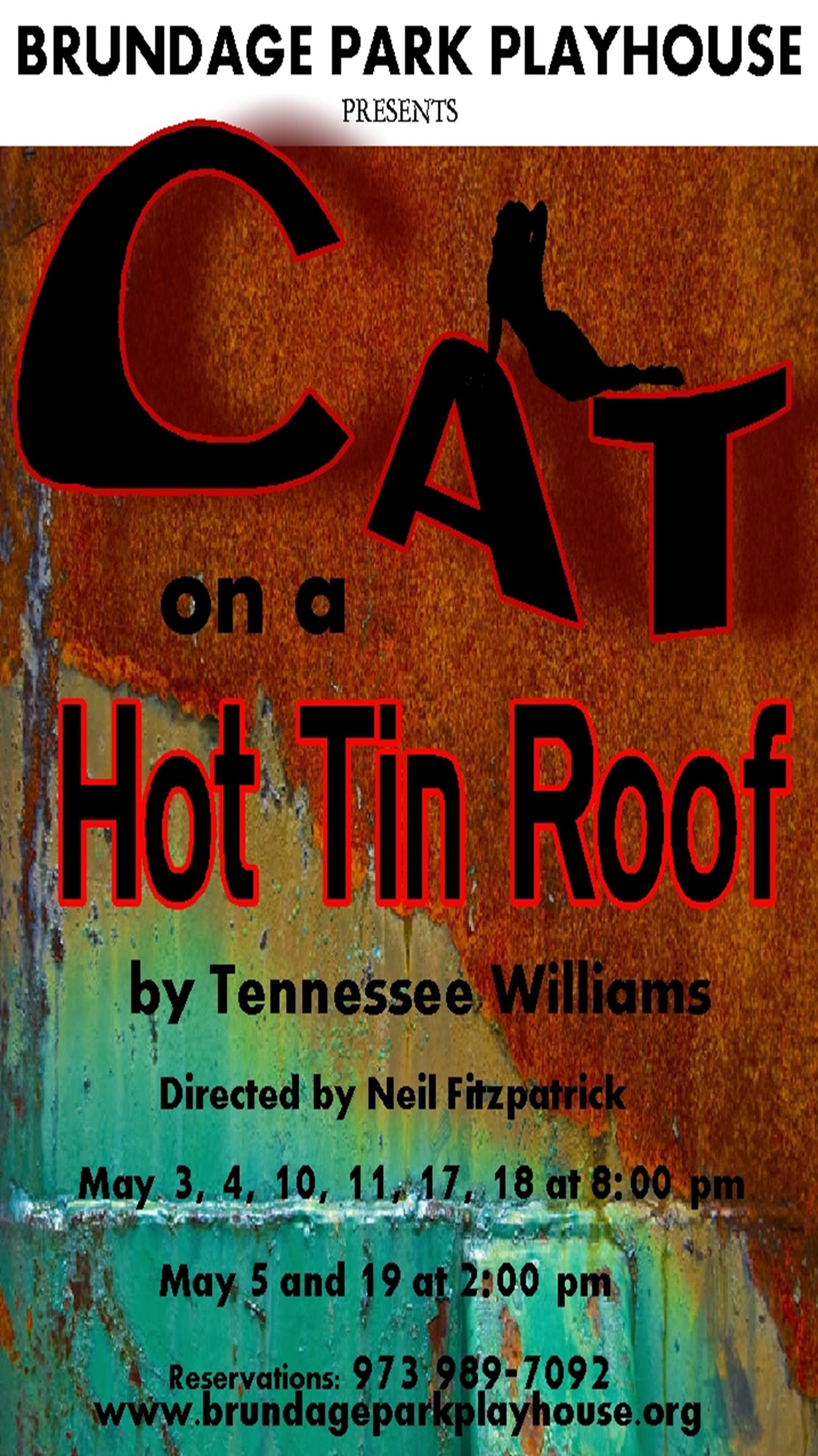 Brundage Park Playhouse is pleased to announce its upcoming performance of CAT ON A HOT TIN ROOF by Tennessee Williams. Directed by Neil Fitzpatrick.

Performances are scheduled on May 3, 4, 10, 11, 17 and 18 at 8:00 pm and May 5 and 19 at 2:00 pm at the playhouse on Carrell Road in Randolph, NJ. Ticket prices are $12 for Seniors (65+) and Children under 12, All others are $15.

The Story

One of William's best-known plays and a Pulitzer Prize winning drama in 1955, Cat on a Hot Tin Roof is a gripping portrayal of a southern family in crisis. Brick Pollitt and his wife Maggie interact with Brick's family during a birthday gathering for his father, Big Daddy, changing the course of their marriage and their relationships with the rest of the family.

Cast List

Margaret – Justine Beauchamp (Clifton)
Brick – Artie Scarano (Fairfield)
Big Daddy Tim Murphy (Denville)
Big Mama – Cindi Halkola (Belvidere)
Mae – Joanne DeCarolis (Rockaway)
Gooper – Jake Zillioux (Kinnelon)
Reverend Tooker – Mark Donnelly (Stanhope)
Crew List
Director - Neil R. Fitzpatrick (Randolph)
Stage Manager- Karen Blomquist (Hopatcong)
Set Design and Construction and Property Manager- Nola Young (Wharton)
Lighting Design and Costumes – Mark Carovale (Mine Hill)
For further information please contact Brundage Park Playhouse at (973) 989-7092 or visit our website at www.brundageparkplayhouse.org