Posted By admin on October 20, 2014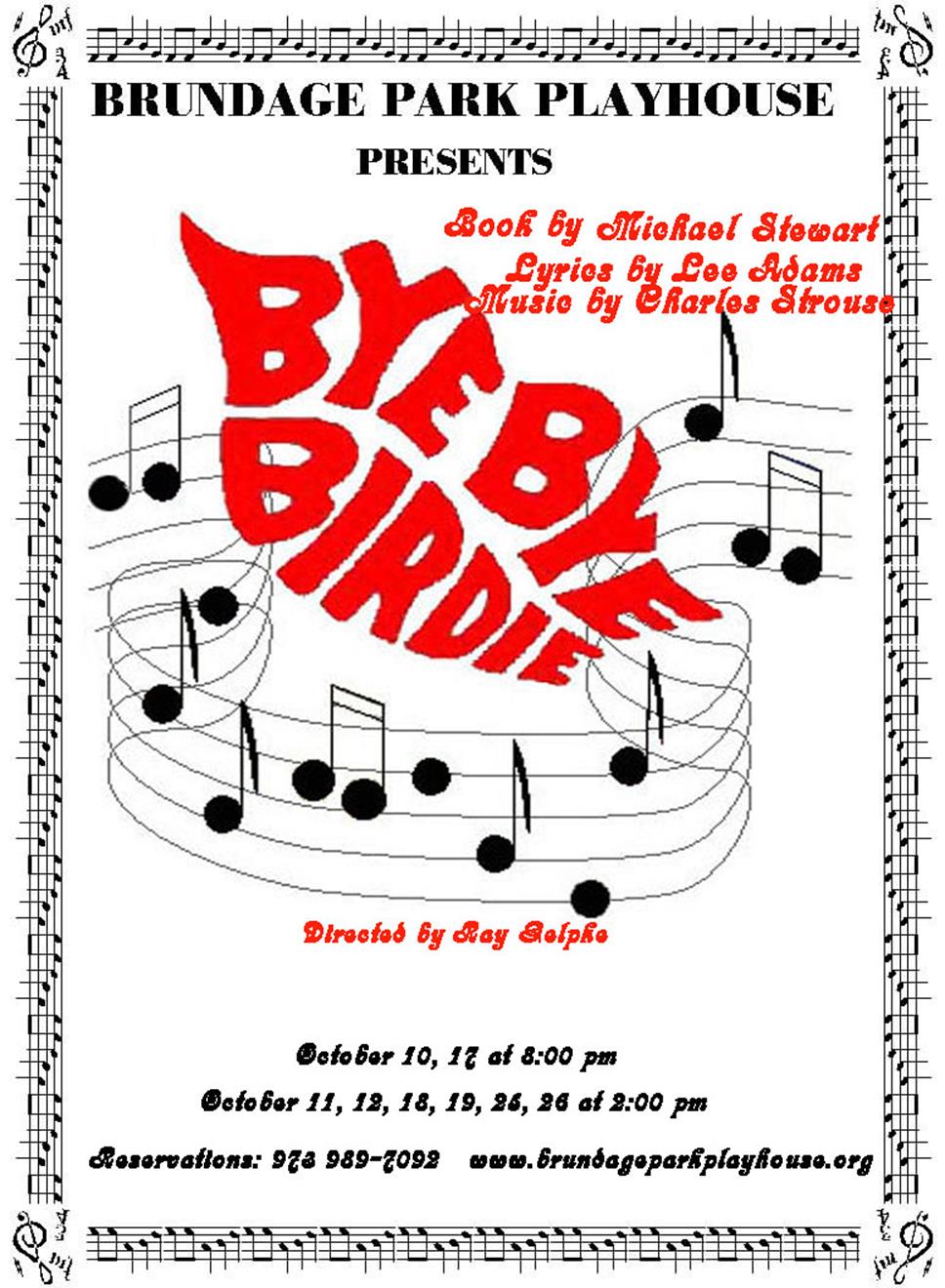 Brundage Park Playhouse on Carrell Road in Randolph, NJ is pleased to announce performances for its upcoming show, Bye Bye Birdie at the playhouse on Carrell Road in Randolph, NJ on Performance Dates: October 10, 17 at 8:00 pm and October 11, 12, 18, 19, 25, 26 at 2:00 pm.   For further information, please call (973) 989-7092. Tickets are $15 for Seniors (62+) and Children under 12, All other tickets are $20. You must use a Visa or Mastercard to reserve your tickets.
Bye, Bye, Birdie
Book by Michael Stewart
Music by Charles Strouse
Lyrics by Lee Adams
Directed by Ray Gelpke
This Tony Award-winning musical is an American theater classic. When teenager Kim MacAfee wins a contest to be the fan chosen to kiss rock and roll star Conrad Birdie goodbye before he goes into the Army, life in Sweet Apple, Ohio is never the same again. Featuring well-known hits such as "Kids", "A Lot of Livin' To Do", "One Boy" and many others, Bye Bye Birdie is nothing but good ol' fashioned fun.
CAST
Albert Peterson –   Kenny Roggenkamp, Dover
Rose "Rosie" Alvarez – Lanea Odenbrett, Morris Plains
Conrad Birdie –  Manny Lopez, Randolph
Kim MacAfee – Clare Capuzzi, Morris Plains
Mr. Harry MacAfee – Joe Bellina, West Milford
Mrs. Doris MacAfee – Emily James, Dover
Hugo Peabody –  Akash Bhide, Randolph
Mae Peterson –  Anna Gelpke, Randolph
Ursula Merkle – Julia Frost, Randolph
Gloria Rasputin – Sandy Gooen, Randolph
The Mayor/Maude/Mr. Johnson/Cop – Christian Spahr, Denville
The Mayor's Wife/Reporter III – Ingrid Spahr, Denville
Mrs. Merkle – Kelly Mabin, Mine Hill
Karl – Nick Short, Randolph
Deborah Sue Miller/Helen –  Kristin Ware, Newton
Margie Johnson – Claire Dempsey, Convent Station
Alice/Sad Girl/One Girl – Renee Gopon, Denville  
Nancy/Sad Girl – Elena Rossetti, Randolph
Harvey Johnson – Alex Gelpke, Randolph
Penelope Ann Henkel- Regina Silikovitz, Randolph
Charity Garfin/Sad Girl- Danielle Brecht, Morris Township and Jordan Brenner, Morris Plains
Suzie - Lyndsey Anjelica, Maplewood
Ensemble/Quartet - Dan Crochery, Boonton
Tween Ensemble – Michael Luciano, Randolph*
Tween Ensemble – Michael Gopon, Denville*
Tween Ensemble – Bobby Brecht, Morris Township*
Randolph MacAfee - Alternate Cast Member
CREW:
Director – Ray Gelpke, Randolph
Sound, Lights and Costume Design – Mark Carovale, Mine Hill
Set Design and Property Manager – Nola Young, Wharton